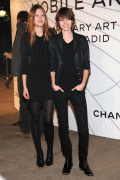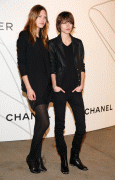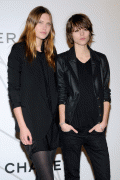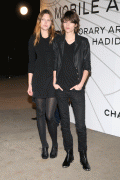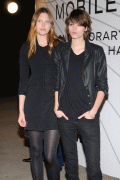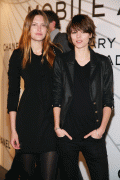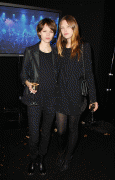 During this past week, on October 20th to be exact, Freja made a rare appearance at the opening party for
Mobile Art: CHANEL Contemporary Art Container by Zaha Hadid
held in NY's Central Park. Dressed in black from head to toe and accompanied by friend and fellow model Catherine McNeil, Freja is the epitome of androgynous chic. Both models look great and I can't help but wonder if they coordinated their outfits considering the matching blazers and all black motif. However, Freja stands out for her attention to detail. Check out the hardware flourishes on her blazer, echoed by the detail on her boots. Bonus points for the sexy, mussed up hair. Factor in the smile and dimple in the first picture and she is just perfection!
Freja usually doesn't attend events and parties like this, so her appearance intrigues me. Maybe she's there just to support Karl. Or maybe Karl asked her to come because he has something else in store for her (*cough*campaign*cough*). I can only dream. Maybe she's a lover of contemporary art, and if so, she's definitely a girl after my own heart. Maybe she just showed up for the Hercules and Love Affair performance. The following excerpt from
blackbookmag.com
would lead me to believe the last reason is most likely, as we all know Freja has a love of music:
Then there was Zaha Hadid in metallic leggings, plus Zac Posen and a slew of stunning models (of which Freja Beha was by far the closest to the stage, and seemingly most stoked for the show). The performance flirted with the raucous but leaned more towards refined. It was Chanel after all.
Nevertheless, this rare sighting tells us that Freja was in NY this past week. Was she in town just for this particular event? Did she have a job shoot? Does she live in NY now? Who knows? I always thought she lived in Copenhagen because she said she bought an apartment there in one of her FTV backstage interviews. But that interview was from an old season. It seems like she has been
popping up
in NY quite a bit recently. Just some food for thought.